Trèsind Studio offers a uniquely captivating dining experience, challenging common perceptions of Indian cuisine by showcasing flavours both new and familiar through a creative lens. The ethos of Studio places an emphasis on the transformation and amplification of humble ingredients, sourced locally from organic and sustainable farmers in the UAE. 
The dining room philosophy is based on the popular Indian phrase "Atithi Devo Bhava", which literally means 'Guest Is God'. Their emphasis on the guest experience is renown in the region, having recently been named the winner of 'The Art of Hospitality' award at the inaugural Middle East and North Africa's 50 Best Restaurants 2022 awards by The World's 50 Best Restaurants. Tresind Studio received its second star at the MICHELIN Guide ceremony 2023 and is currently ranked no.11 on the world's 50 Best Restaurants 2023.
Chef Himanshu is considered one of the youngest tastemakers in Indian cuisine today, having commenced his culinary career under the mentorship of Chef Manish Mehrotra of Indian Accent in Delhi. From the very beginning, Chef Himanshu's mission has been to change the perception of Indian cuisine and elevate how we experience Indian food today; the culmination of which is flagship restaurant, Trèsind Studio. His interest in food and cooking was nurtured by his family, in his home kitchen. The evolution of Trèsind Studio is his ode to the culinary legacy of his homeland and his drive for exploration in the culinary world. 
"I come from an agricultural family in India. I grew up spending a lot of time around fresh produce, herbs and flowers. This has created an innate inclination towards using locally sourced ingredients, which is organically expressed in our menu at Trèsind Studio. Indian food has so much to offer, with such diversity in the landscape, produce, culture and cuisine. My team and I are passionate about making dishes that we enjoy savouring, dishes that we want to share with our guests."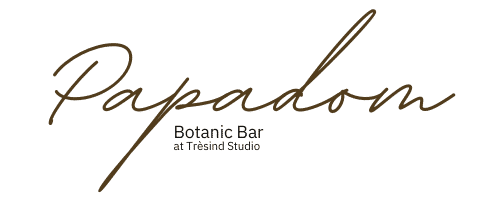 Papadom is the botanic bar program at Trèsind Studio. It offers a unique selection of specially curated beverages and a collection of premium wine labels in its climate-controlled cellar. The cocktail menu, designed by critically acclaimed star-mixologist, Dom Carella from Italy, focuses on showcasing a diverse range of flavours and innovative creations through infusions in his spirit-based and non-spirit-based drinks.
Carella's beverages deliver a wide range of flavour profiles while working in synergy with the kitchen to utilise previously unused byproducts, consciously reducing kitchen waste. The outcome is an experience that, through cuisine and mixology, bridges the gap between what is known, and what is yet to be discovered.
6:00 PM | 11:00 PM
Tuesday - Sunday
St. Regis Gardens, The Palm Jumeirah – Dubai